It seems like Mafia II has an Extreme difficulty that may be unlocked at some point in the future.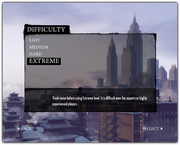 In pc\sds_en\text\text_default.sds, there's a file called TextDatabase.dat. Within this file is a listing of the difficulty options and their descriptions:
00_59_03_0000:Difficulty
00_59_03_0001:Easy
00_59_03_0002:Medium
00_59_03_0003:Hard
00_59_03_0004:Extreme 

00_59_03_0006:This option is suitable for beginners or newbies who do not play shooters very much.

00_59_03_0007:This option is suitable for most players who are already familiar with action games.

00_59_03_0008:This option is suitable for skilled players who enjoy a challenge.

00_59_03_0009:Think twice before using Extreme level. It is difficult even for experts or highly experienced players.

You can unlock this feature by Extreme Level Difficulty mod.